Cult Epics Releases Two Box Sets Featuring Sex, Murder and Gore!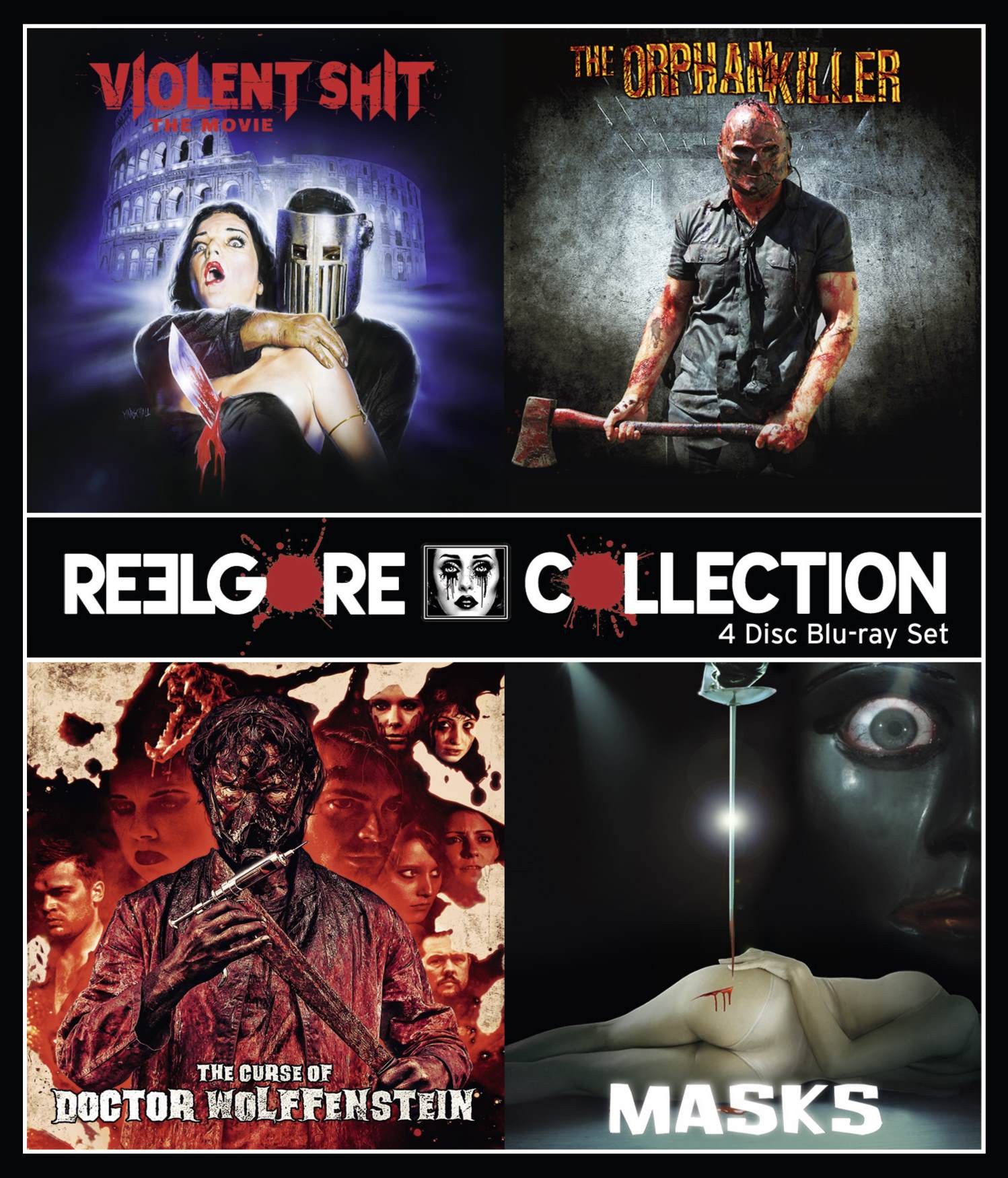 REEL GORE COLLECTION (4 Disc Blu-ray box set) and
SEX MURDER ART: THE FILMS OF JORG BUTTGEREIT (5 Disc DVD box set) coming from Reel Gore Releasing and Cult Epics September 26, 2017
Los Angeles, CA (August 8, 2016.) Reel Gore Releasing presents on September 26, 2016 a low budget box set of their first 4 releases: Luigi Pastore' Violent Shit – The Movie, Andreas Marschall' Masks, Marc Rohnstock' The Curse of Doctor Wolffenstein, Matt Farnsworth' The Orphan Killer, original Discs bonus features are included.
On the same day is the release of SEX MURDER ART: THE FILMS OF JORG BUTTGEREIT, a 5 Disc DVD collection of his four underground horror films; the necrophilia classis Nekromantik & Nekromantik 2, the death and suicide anthology Der Todesking (The Death King) and the serial killer film Schramm, with over 20 hours of Bonus Features, Includes Bonus disc with Grindhouse version of Nekromantik and short film Hot Love, among other extras. First 500 copies will include exclusive 40-page booklet, containing rare interviews and photos with Jorg Buttgereit and collaborators. Sex Murder Art is also available as 4 Disc Blu-ray box set with 2 bonus CDs ($99.95.) Fully Uncut & Uncensored versions
REEL GORE COLLECTION (4 Disc Blu-ray box set)
Price: $59..95 (4xBlu-ray)
Street Date: September 26, 2017
Production Year: 2015, 2011, 2016, 2011
Film run time: Approx. 389 minutes
Language: English/German/German/English with optional English subtitles
Aspect Ratio: Widescreen Anamorphic 1.78:1
Audio: Dolby Digital 2.0 Stereo/DTS MD 5.1 Surround
Label: Reel Gore Releasing
Distributor: CAV
Rating: Not Rated
REEL GORE COLLECTION Bonus Features
Making of
Featurettes
Interviews
Trailers
Slideshow
SEX MURDER ART: THE FILMS OF JORG BUTTGEREIT (5 Disc DVD Box set)
Price: $59.95  (5xDVD)
Production Years: 1987/1990/1991/1993
Films run time: Approx. 319 minutes
Bonus Features run time: Over 20 Hours
Rating: Not Rated
SEX MURDER ART Special Features
New Director's Approved HD Transfers
Two versions of Nekromantik
Exclusive Introductions for each film by Jorg Buttgereit
Q&A with Jorg Buttgereit
Audio Commentaries
The Making Ofs
Featurettes
Still Photo Galleries
Jorg Buttgereit Trailers
Documentary: Corpse Fucking Art
Short films: Hot Love, A Moment of Silence at the Grave of Ed Gein, Horror Heaven, Bloody Excess in the Leaders Bunker, My Father
Music Video: Half Girl by  Jorg Buttgereit
Original Motion Picture Soundtracks
Live Concert of Nekromantik 2
DVD Exclusive art design by Silver Ferox
DVD Exclusive 40-page perfect-bind booklet with Interviews & exclusive photos with cast & crew
Comments
comments