Here at Cultsploitation, we often look at Blu-rays that are currently releasing from major labels. Rarely do we look ahead to those that are on the horizon. To rectify that, we've decided to try to look at what some major boutique labels have on the docket in the coming months and pick out the ones that seem the most exciting, whether that be because of the film itself, the transfer, or the packed extras. You may not agree, and that's fine – we'll just kindly ask you to leave the site (just kidding, please stay and hit that box to receive notifications when we post!).
Below, find a list of seven new Blu-ray releases coming from Scream Factory, who have their hands full starting their annual Summer of Fear and more! (Why pick seven? So we had to be a bit more selective than just grabbing all the new Collector's Editions).
1. Piranha II: The Spawning – July 31, 2018
We've been waiting on the Piranha II Blu-ray for some time now, ever since it was announced back in 2017 and its release date moved up. It's due to release July 31, and it's getting a new 2k scan of the original camera negative which should definitely please long-time fans. Unfortunately, James Cameron's cut will not be included, nor does Cameron show up on the release at all, but Scream Factory did manage to score interviews with Ricky Paull Goldin and Brian Wade – a couple of nice features for this non-Collector's Edition release.
2. In the Mouth of Madness – July 24, 2018
In the Mouth of Madness is one of those films that should have already gotten a quality Blu-ray release – and technically, it did get a good transfer on a New Line Cinema Blu-ray back in 2013. However, that one was sort of lacking on special features and Scream Factory has upped the ante for this Collector's Edition with a new 4k scan and a host of extras including new commentary from John Carpenter and Sandy King Carpenter (which seems huge!) as well as new interviews with Greg Nicotero and actress Julie Carman. The disc looks to be packed and also include all of the features from the New Line Blu-ray, so this is a pretty exciting new package for the film.
3. The Tingler – August 21, 2018
One thing about this new Tingler Blu-ray: we don't know what special features it will include yet. However, fans of Vincent Price films have been waiting to get their hands on a good Blu-ray copy of this chiller from William Castle, and now they'll finally be able to add it to their collection. Hopefully Scream Factory is able to assemble some quality extras here; however, just having it on Blu-ray is enough to warrant a purchase.
4. Return of the Living Dead Part II – August 14, 2018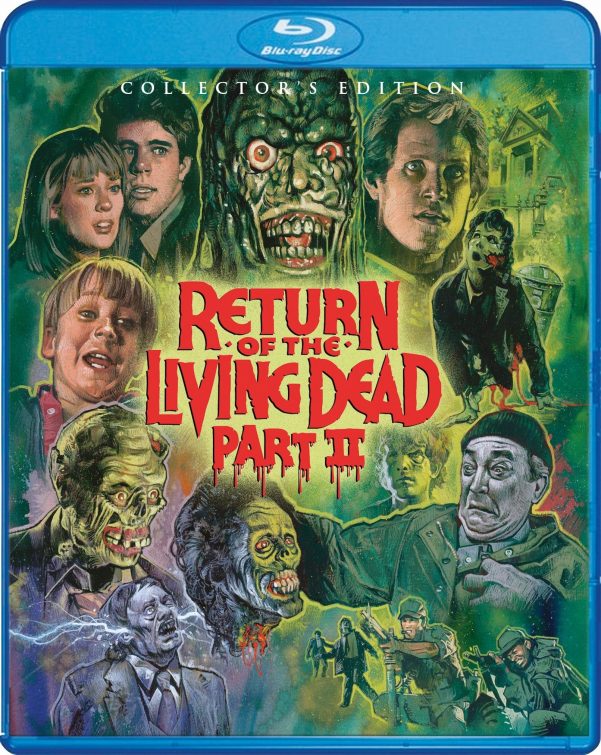 Scream Factory did a great job on their previous Return of the Living Dead release, but that's not even why I'm looking forward to Return of the Living Dead Part II. Frankly, I just have a huge nostalgia factor for this film – I used to record it on VHS when it was showing on TV and then watch it over and over again. I haven't seen it in quite a while so 1) I can't wait to check it out in HD and 2) I want to see if it holds up to my memories. Right now, no extras have been announced for this so we're still waiting on info about transfer and features; still, I'm pretty interested to see what they've got cooked up for this one.
5. The Bride – September 25, 2018
This one's a ways out yet, but I'm going to level with you: I've never seen The Bride, but its cast has my interests piqued. The thing stars Sting as Frankenstein, and that's pretty much all I need to know that this one's going to be a fun watch. The Bride currently has no special features announced, but if they get a Sting audio commentary so help me…
6. The Collection – September 25, 2018
So far not much is known about this Blu-ray collection of all the films, but one thing that we can celebrate is that the films are all collected and released on Region A Blu-ray. Scream Factory normally does a good job with boxsets (see the It's Alive Trilogy) so I am expecting much the same for this one as well.
7. Exorcist II: The Heretic – September 25, 2018
I debated on what to include for the last release – Exorcist II or The Texas Chainsaw Massacre: The Next Generation? Ultimately, though neither of them have had their extras announced yet, I went with Exorcist II because there is a chance we could see multiple versions of the film included on this release. Whether that will happen or not is anybody's guess, but the prospect of being able to watch different versions of this shitty movie is fairly exciting.
What are you looking forward to from Scream Factory in the coming months? Let us know in the comments!