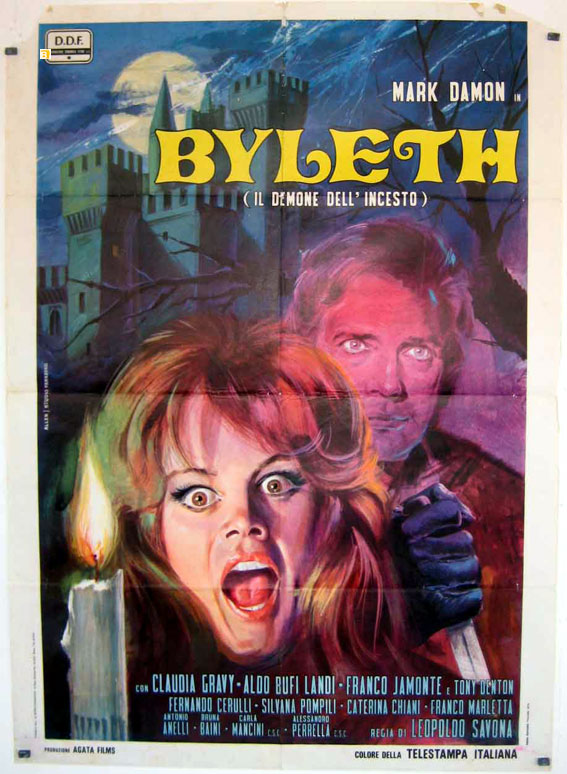 Title: Byleth: The Demon of Incest
Director: Leopoldo Savona
Written by: Norbert Blake (story and screenplay) Leopoldo Savona(screenplay)
Starring: Mark Damon, Claudia Gravy, Aldo Bufi Landi
Movie Release: 1972
Production Company: Agata Films
Rating: NR
Runtime: 80 mins
Plot: The Duke Lionello Shandwell is delighted that his sister Barbara has returned home, after being away for a year in Venice, to his lonely ancestral castle in the Roman countryside. His happiness is disrupted when she reveals that she has since gotten married to Giordano. Although he doesn't fully show it around others, Lionello is deeply disturbed by his sister's new union, and it's not in a protective big brother sort of way. While his sister and brother-in-law stay with him, Lionello sometimes retreats into a tormented, depraved, and jealous state, spying on them making love, harboring repressed aggression towards Giordano. Barbara is a red head, and meanwhile a giallo-esque killer is going around killing red heads. Could it be Lionello venting his aggressions over his unrequited love for Barbara, or is it something more demonic?
Blu-ray Label: Severin Films
Blu-ray Release Date: Nov 5, 2019 (pushed back)
MSRP: $19.99
Purchase: Severin Films(Pre-order)
Extra Features:
º NEW 2k scan of original negative elements
In one of the most bizarre EuroSleaze sickies of the '70s, Mark Damon (House of Usher, Crypt Of The Living Dead) delivers an atypically unhinged performance as a duke consumed by unnatural lust for his beautiful sister (Claudia Gravy of The Nun & The Devil). Toss in depraved dollops of sex, voyeurism, demonic possession and giallo-style violence, and you get the sumptuous-yet-insane rarity The Wild Eye calls "intriguingly different and endearingly odd for Italian Horror aficionados." Aldo Bufi Landi (Four Flies on Grey Velvet) and Fernando Cerulli (Death Smiles On A Murder) co-star in this long-lost filth-fest, directed by Spaghetti Western veteran Leopoldo Savona (Pistol Packin' Preacher, Apocalypse Joe) and now scanned in 2k from negative elements recently discovered in a Madrid lab vault.