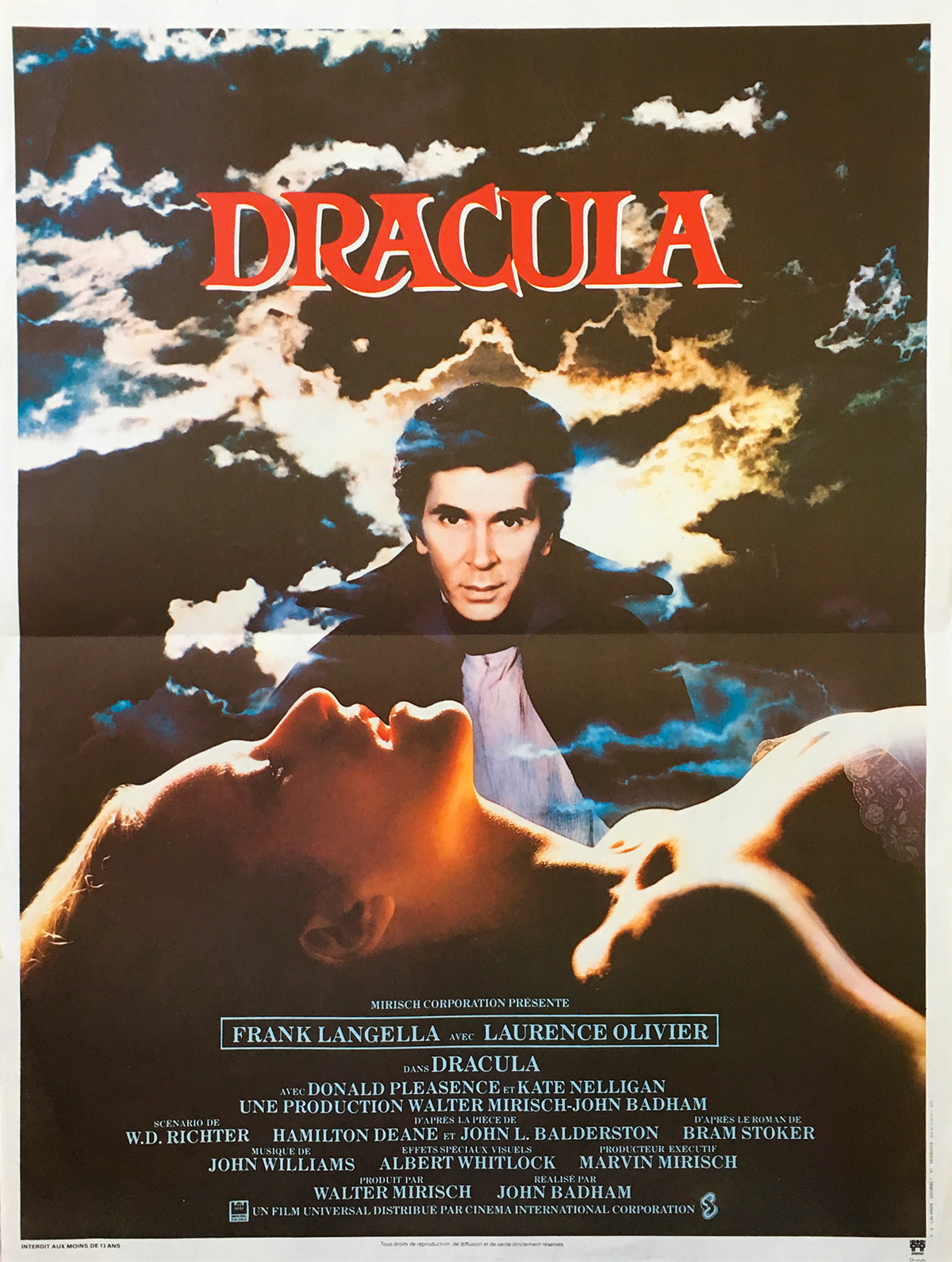 Title: Dracula
Director: John Badham
Written by: W.D. Richter
Starring: Frank Langella, Laurence Olivier, Donald Pleasence
Movie Release: 1979
Production Company: Universal Pictures, The Mirisch Corporation
Rating: R
Runtime: 109 min
Plot: Throughout history, Dracula has filled the hearts of men with fear and the hearts of women with desire. In this stylish production of Bram Stoker's classic Gothic horror tale, Frank Langella, reprises his electrifying, award-winning stage performance as the bloodthirsty Count Dracula as he goes in search of his ultimate bride. Meanwhile, the renowned and relentless vampire hunter, Professor Van Helsing (Sir Laurence Olivier), seeks to end the dark prince's reign of terror over the citizens of Transylvania. Featuring an all-star cast, fine direction and a superbly atmospheric score by the great John Williams, Dracula is an unforgettable adaptation of one of the most enduring horror legends of all time.
Blu-ray Label: Scream Factory
Blu-ray Release Date: Nov 26, 2019
MSRP: $29.99
Extra Features:
DISC ONE: DESATURATED COLOR TIMING
NEW Introduction By Director John Badham
NEW King Of My Kind – An Interview With John Badham
NEW What Sad Music – An Interview With Writer W.D. Richter
NEW Dracula's Guest – An Interview With Camera Assistant Jim Alloway
NEW Interview With Editor John Bloom
NEW Interview With Make-Up Artist Peter Robb-King
NEW Interview With Hair Stylist Colin Jamison
NEW Interview With Assistant Director Anthony Waye
NEW Interview With Production Manager Hugh Harlow
Audio Commentary With Director John Badham
The Revamping Of Dracula Featurette
DISC TWO: ORIGINAL THEATRICAL COLOR TIMING
NEW 4K Scan Of The Best Available Original Film Elements
NEW Introduction By Director John Badham
NEW Audio Commentary By Film Historian/Filmmaker Constantine Nasr
Theatrical Trailer
Radio Spots
Still Gallery
Review is not available.
Blu-ray Gallery is not available.
Blu-ray Label: Universal Studios
Blu-ray Release Date: Sep 2, 2014
MSRP: $22.99
Extra Features:
The Revamping of Dracula
Feature Commentary with Director John Badham
Universal Classic Monsters Trailer
Dracula TV Series Trailer
Digital HD UltraViolet Digital Copy