Title: Gwendoline
Director: Just Jaeckin
Written by: Just Jaeckin
Starring: Tawny Kitaen, Brent Huff, Zabou Breitman
Movie Release: 1984
Production Compan: Films De L'Alma, G.P.F.I, Parafrance Films
Rating: R
Runtime: 87 min
Plot: Gwendoline arrives in China in a box, and is helped out of her immediate predicament by a female contact and a devil-may-care adventurer. She's on a mission to find her father, who was last seen searching for a rare butterfly in the Land of the Yik Yak. They confront the evil Cheops in an attempt to find Gwen's lost father and the butterfly, and face many other challenges to their mission.
Review is not available.
Blu-ray Gallery is not available.
Extra Features (LIMITED EDITION VERSION):
New uncut 4k scan from the original negative
Alternate US Release Version: THE PERILS OF GWENDOLINE IN THE LAND OF THE YIK YAK
Audio Commentary with Director Just Jaeckin
Audio Commentary with Stars Tawny Kitaen and Brent Huff
The Butterfly Effect: 2019 Interview with Director Just Jaeckin
Bondage Paradise: Interviews with Costume & Concept Designers & Comic Book Artists François Schuiten and Claude Renard
The Perils Of Production: Interview with Executive Producer Jean-Claude Fleury
Gwendoline's Travels: Interview with Production Designer Françoise Deleu
Blu-Ray Promos with Tawny Kitaen & Brent Huff
The Last Temptation Of Just: 2006 Interview with Director Just Jaeckin
Dr. Kinsey Interview with John Willie, Creator of SWEET GWENDOLINE
Revealing Tawny Kitaen Photospread for French LUI Magazine
Trailers
Reversible Cover
Six Lobby Cards (while supplies last)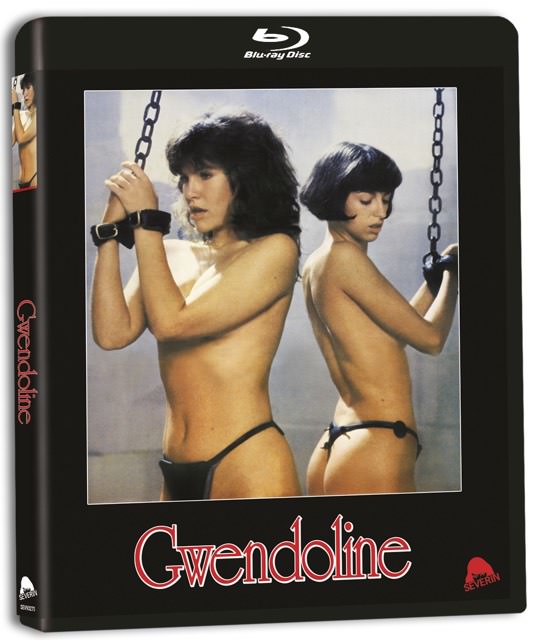 Review is not available.
Blu-ray Gallery is not available.
Extra Features (STANDARD EDITION VERSION):
New uncut 4k scan from the original negative
Alternate US Release Version: THE PERILS OF GWENDOLINE IN THE LAND OF THE YIK YAK
Audio Commentary with Director Just Jaeckin
Audio Commentary with Stars Tawny Kitaen and Brent Huff
The Butterfly Effect: 2019 Interview with Director Just Jaeckin
Bondage Paradise: Interviews with Costume & Concept Designers & Comic Book Artists François Schuiten and Claude Renard
The Perils Of Production: Interview with Executive Producer Jean-Claude Fleury
Gwendoline's Travels: Interview with Production Designer Françoise Deleu
Blu-Ray Promos with Tawny Kitaen & Brent Huff
The Last Temptation Of Just: 2006 Interview with Director Just Jaeckin
Dr. Kinsey Interview with John Willie, Creator of SWEET GWENDOLINE
Revealing Tawny Kitaen Photospread for French LUI Magazine
Trailers
Reversible Cover