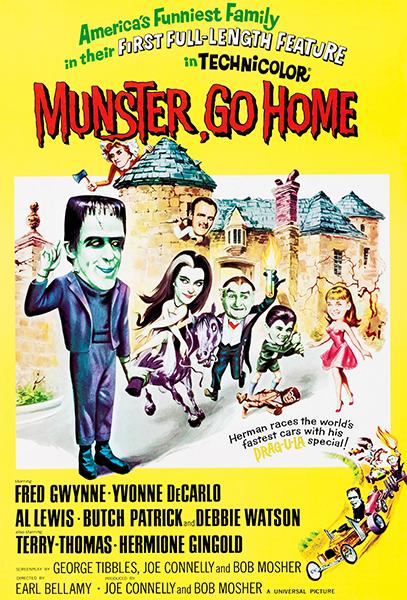 Title: Munster, Go Home!
Director: Earl Bellamy
Written by: Joe Connelly, Bob Mosher, George Tibbles
Starring: Fred Gwynne, Yvonne De Carlo, Al Lewis
Movie Release: 1966
Production Company: Universal Pictures
Rating: Approved
Runtime: 96 min
Plot: The Munsters travel to England after Herman discovers he's the new Lord of the Munster Hall.
Blu-ray Label: Scream Factory
Blu-ray Release Date: Mar 31, 2020
MSRP: $27.99
Extra Features:
• NEW Audio Commentary with actor Butch Patrick and musician/filmmaker Rob Zombie
• Bonus Television Film - The Munsters' Revenge in HD – (1.33:1)
• Vintage cast radio interviews
• Radio Spots
• Theatrical Trailer
• Extensive Still Galleries for both films – behind-the-Scenes photos, movie stills and posters
Review is not available.
Blu-ray Gallery is not available.
Blu-ray Label: Koch Media
Blu-ray Release Date: Jan 10, 2019
MSRP: €12.56
Extra Features:
• Trailer
• Still gallery