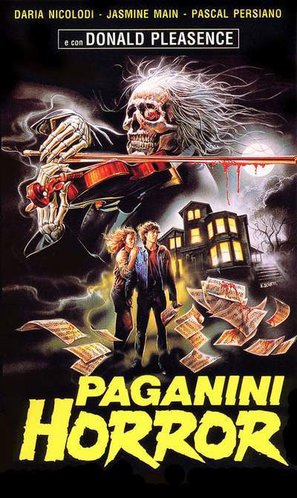 Title: Paganini Horror
Director: Luigi Cozzi
Written by: Luigi Cozzi, Daria Nicolodi, Raimondo Del Bazo (Story)
Starring: Daria Nicolodi, Jasmine Maimone, Pascal Persiano
Movie Release: 1980
Production Company: Fulvia Film
Rating: NR
Runtime: 82 mins
Plot: When a female rock band use an infamous old piece of sheet music to record their new album in an old mansion, they accidentally open a portal to hell.
Blu-ray Label: Severin Films
Blu-ray Release Date: October 29, 2019
MSRP: $28.00
Purchase: Severin Films (Pre-order)
Extra Features:
º 2K scan from the original negative
º Play It Again Paganini: Interview with Director Luigi Cozzi
º The Devil's Music: Interview with Actor Pietro Genuardi
º Deleted Scenes and Alternate Ending
º Trailer
º BONUS: CD Soundtrack
From producer Fabrizio De Angelis (ZOMBIE, THE BEYOND, KILLER CROCODILE), writer/director Luigi Cozzi (CONTAMINATION, STARCRASH) and co-writer/star Daria Nicolodi (DEEP RED, TENEBRAE) comes one of the most hard-to-find shockers from Italian Horror's greatest decade: When an all-girl rock band records an unpublished song by Niccolò Paganini – the 19th Century composer said to have sold his soul to the Devil – they will unleash a skintight spandex nightmare of extreme violins, cheesy power ballads, SUSPIRIA-influenced lighting and outlandish Satanic havoc that QuietCool calls "serious fun…it drips with as much love as it does with blood and gore." Jasmine Maimone (DEMONS), Pascal Perciano (VOICES FROM BEYOND) and the legendary Donald Pleasence (HALLOWEEN, NOSFERATU IN VENICE) co-star in this "kooky, stylish and definitely recommended flick" (DVDExotica.com), now transferred in 2k from the original negative.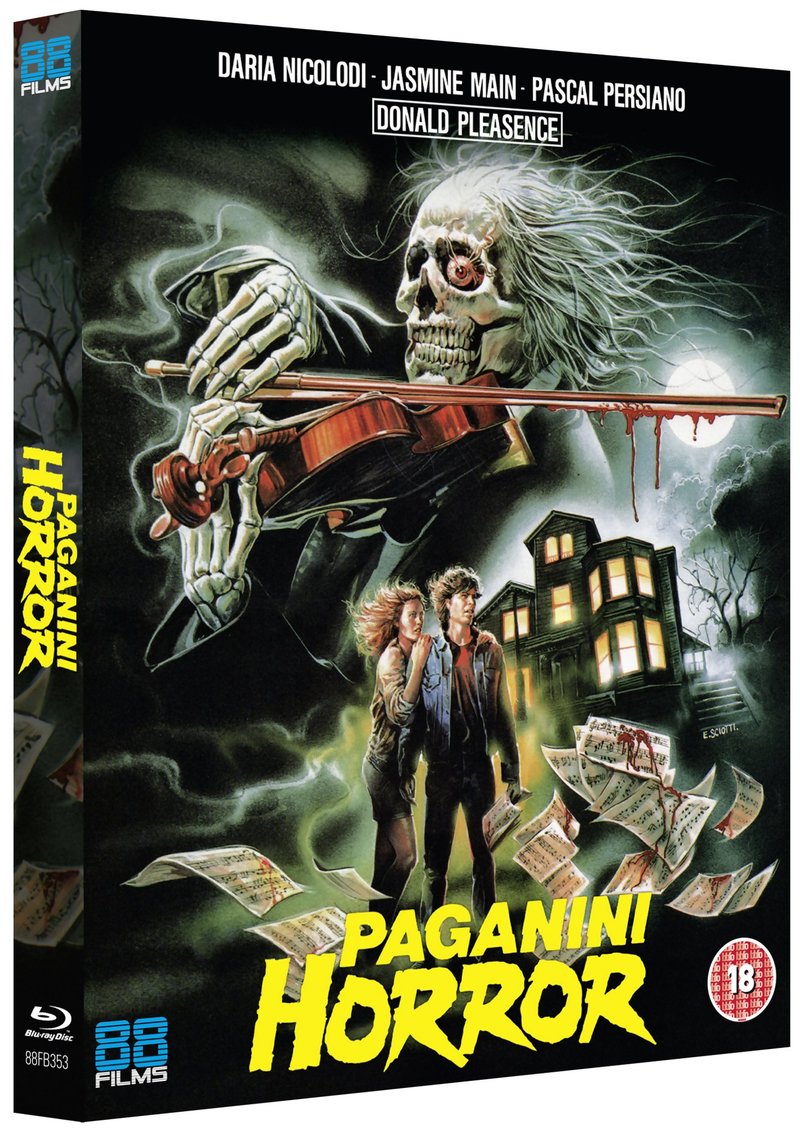 Review is not available.
Blu-ray Gallery is not available.
Blu-ray Label: 88 Films
Blu-ray Release Date: Sept 16, 2019
MSRP: £24.99
Purchase: 88 Films
Audio: LPCM Stereo
Picture: 1080p HD 1.66:1
Runtime: 83 mins approx
Language: English / Italian
Subtitles: English
Extra Features:
º Limited Edition Gloss O-Card slipcase [First Print Run Only]
º Limited Edition Extensive Booklet Notes by Film maker Eugenio Ercolani [First Print Run Only]
º Brand New 2K Remaster from The Original 16mm Negative in 1.66:1 Aspect Ratio
º Extensive Cleanup and Colour Correction Carried out in the UK
º Remastered Uncompressed English Audio
º Optional English SDH Subtitles
º Remastered Uncompressed Italian Audio with Newly Translated Subtitles
º Audio Commentary by Genre Expert Troy Howarth
º Bloody Violin: Director Luigi Cozzi on Paganini Horror (31 Mins)
º Interview with Actor Pietro Genuardi (26 Mins)
º Remastered Trailer