The Strange Vice of Mrs. Wardh Severin Films Blu-ray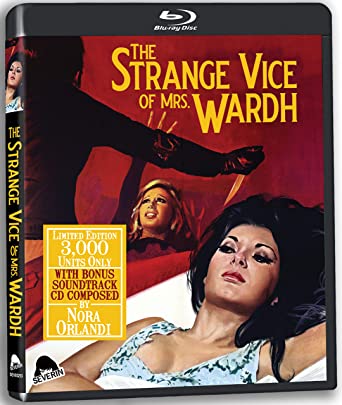 The Strange Vice of Mrs. Wardh
Label: Severin Films
Release Date: June 2, 2020
Price: MSRP $34.98
THE STRANGE VICE OF MRS. WARDH – Sergio Martino's Giallo Masterpiece – now uncut on Blu-Ray, plus a Bous CD Soundtrack!
A year before they stunned the genre with ALL THE COLORS OF THE DARK, director Sergio Martino, co-writer Ernesto Gastaldi, and stars Edwige Fenech and George Hilton made their collaborative giallo debut with this "incredible piece of cinema" (Flickering Myth) that is "every bit as thrilling as Argento's best" (Goomba Stomp).
Fenech, "at her most luminous" (Digitally Obsessed), stars as an unfaithful diplomat's wife who finds herself hunted by a razor-wielding sex maniac while simultaneously haunted by her own depraved desires. Alberto de Mendoza (HORROR EXPRESS), Cristina Airoldi (TORSO) and Ivan Rassimov (EATEN ALIVE!) co-star in the "daring shocker that set the pace for years to come" (Mondo Digital) – also known as BLADE OF THE RIPPER and NEXT! Newly scanned in 4k from the inter-negative and loaded with new and archival Special Features.