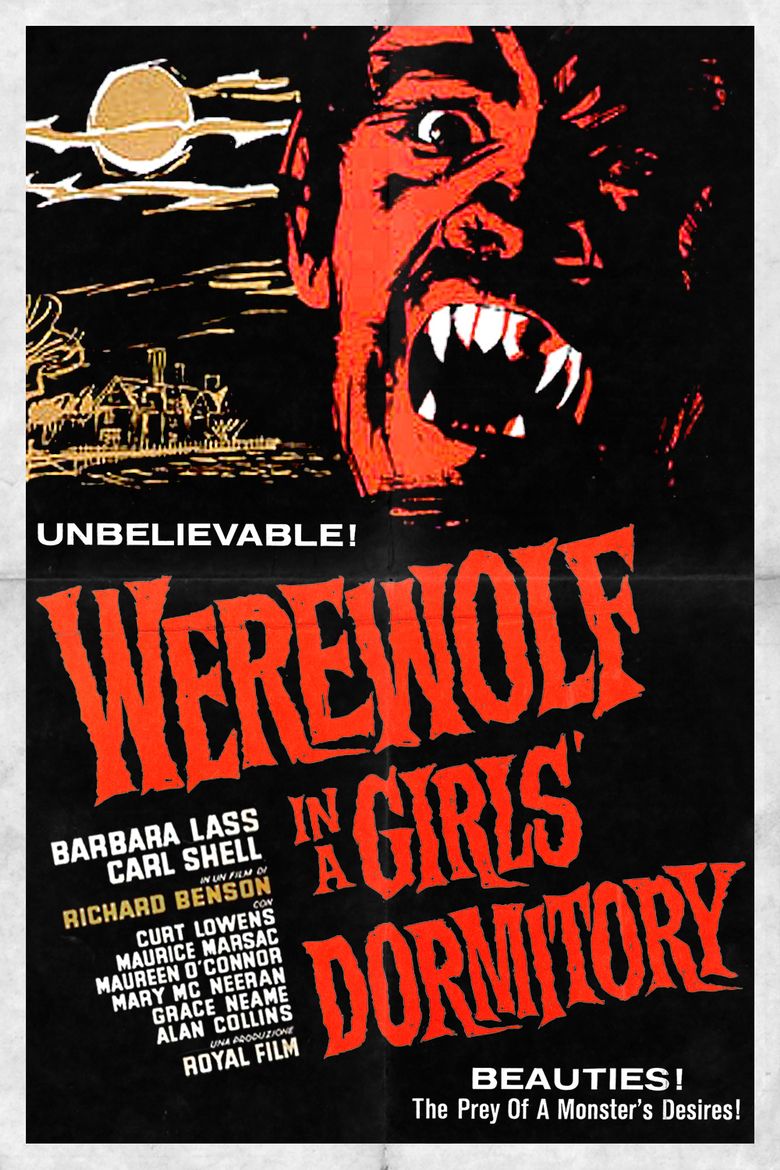 Title: Werewolf in a Girls' Dormitory
Director: Paolo Heusch
Written by: Ernesto Gastaldi
Starring: Barbara Lass, Carl Schell, Curt Lowens
Movie Release: 1961
Production Company: Royal Film
Rating: Approved
Runtime: 83 mins
Plot: The new science teacher Dr. Julian Olcott with a mysterious past arrives in an institutional boarding school for troublemaker girls. Along the night, the intern Mary Smith, who is blackmailing another teacher - Sir Alfred Whiteman - with some love letters, is slaughtered by a werewolf. The detective in charge of the investigation attributes the crime to a wolf, while her mate Priscilla believes she was killed by Sir Alfred. On the next days, other deaths happen in the school, reducing the list of suspects.
Blu-ray Label: Severin Films
Blu-ray Release Date: Nov 12, 2019
MSRP: $28.00
Purchase: Severin Films (Pre-order)
Extra Features:
NEW 2k scan from archival elements
NEW Bad Moon Rising: Interview with Screenwriter Ernesto Gastaldi (HD; 10:53)
.NEW Booklet insert
Audio commentary with actor Curt Lowens moderated by David Del Valle
Alternate Opening (unrestored HD; 0:26)
Italian Trailer (unrestored HD; 3:29)
US Trailer (unrestored HD; 1:12)
BONUS: CD Soundtrack
Twisted Italian horror meets lurid German krimi in the 1961 EuroShocker filled with "genuinely eerie scenes and rather graphic maulings" (DVD Drive-In), now restored like you've never seen or heard it before: When an all-girl reform school is rocked by a series of grisly murders, it will unleash a nightmare of sexual corruption and lupine depravity. Carl Schell (The Blue Max), Barbara Lass (aka Roman Polanski's first wife Barbara Kwiatkowska) and Luciano Pigozzi (Castle of The Living Dead) star in this infamous Italian/Austrian co-production – originally titled LYCANTHROPUS– directed by Paolo Heusch (The Day The Sky Exploded) from a screenplay by giallo maestro Ernesto Gastaldi (All The Colors of The Dark) with a classic score by Armando Trovajoli (Strange Shadows In An Empty Room), newly scanned in 2k from archival elements recently discovered in a Rome lab vault.