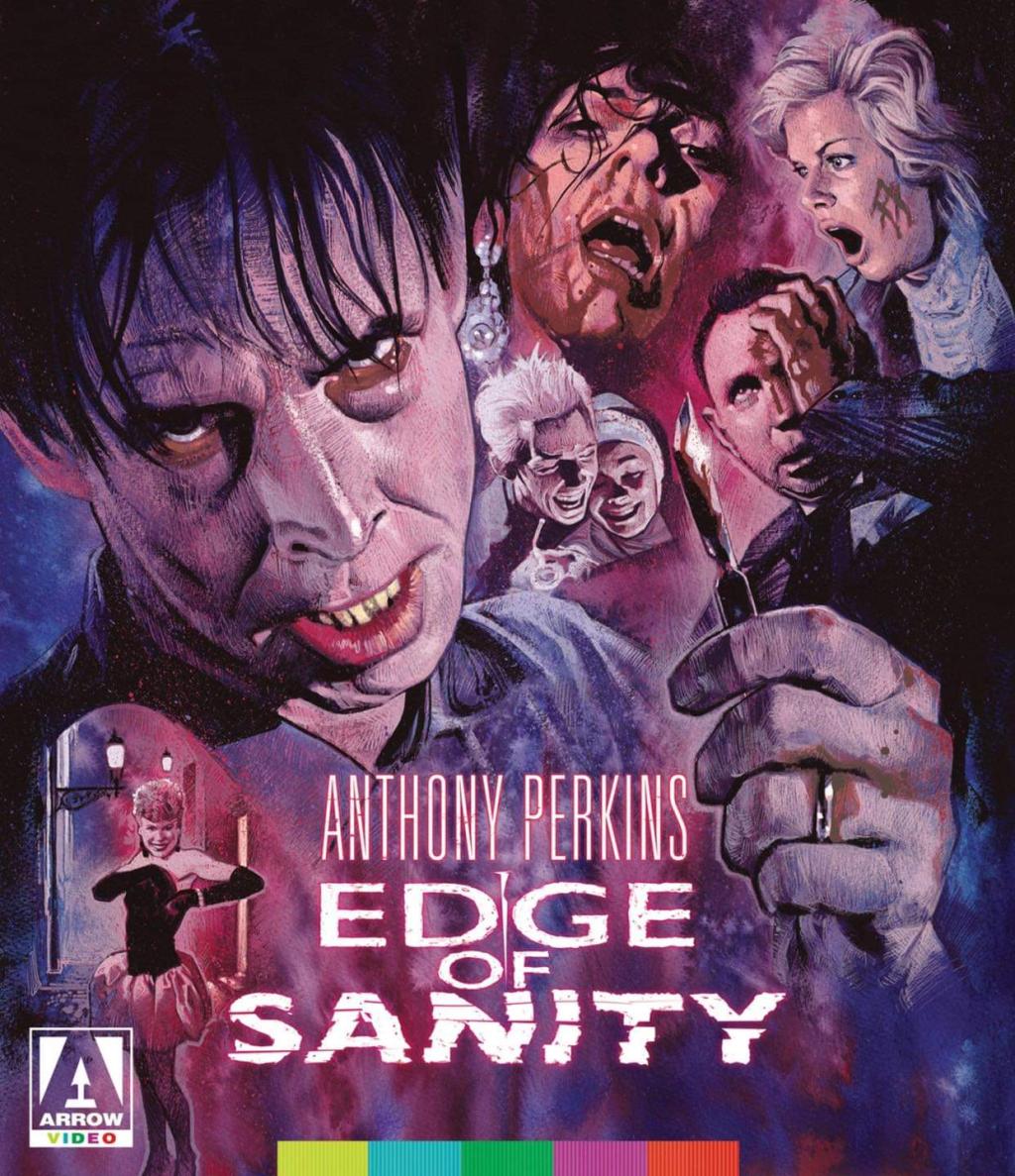 Gérard Kikoïne's 1989 film Edge of Sanity is effectively a culmination of adapting Robert Louis Stevenson's Strange Case of Dr. Jekyll and Mr. Hyde and infusing it with a layer of luridness, sexuality, drugs, and Anthony Perkins going absolutely off the rails, along with a heaping helping of 1980s culture shock. While Kikoïne works within the bare bones of Stevenson's structure, the film quickly picks up its own persona differentiating itself from a number of other adaptations; and here, Hyde also plays the dual role of one of history's most mysterious true crime murderers, Jack the Ripper.
Perkins plays the duality well, as a scientist experimenting with various chemicals only to find his lab monkey discovers the most interesting concoction of all – crack cocaine! Well, not exactly, but ultimately the dapper Dr. Jekyll finds himself freebasing during his nights after his wife Elisabeth (Glynis Barber) heads to bed, donning some red eye liner and tousling his hair in a steam bath before heading out to brothels to get his kicks (and slices) in with some prostitutes.
Interestingly, Edge of Sanity takes away some of Mr. Hyde's monstrous visage; here, the physical transformation is much more limited to "middle aged man with goth phase" than a true deformity, and that hints at the film's themes about dabbling with drug usage that was also heavily prevalent in the 1980s. Kikoïne also includes a number of anachronisms that reference the punk sensibilities of the 1980s to supplement these ideas. However, the film's most intriguing concepts deal with BDSM and kink culture, along with the early manifestations of sexuality that may be skewed by psychological trauma.
The opening scene of the film sees a young Jekyll secretly seduced by a prostitute his father brings home, and when his father finds out, Jekyll's humiliated and beaten in front of her. These kink fantasies are then repressed by the obviously high-class doctor Jekyll becomes; at one point after Jekyll has pursued the gratification of slaughter, his wife questions where he goes at night, and he jokingly but also truthfully replies, "Opium dens and brothels!" Kikoïne comments on the duality of the person, forced to repress the baser urges of the id to comply with the perception of society's demands of professionals.
Edge of Sanity is sexy and gruesome, with a number of sultry moments carried out by the ravenous Hyde. Its forays into softcore work well in the context of its BDSM motif, something Kikoïne was quite familiar with considering his ventures into softcore and hardcore erotica. Perkins trades some of the calm stoicness of his Norman Bates character for manicness as Hyde, allowing him to chew scenery at every turn. And the cinematography emphasizes the dual nature of the two characters, with bright neon-esque lighting and Dutch camera angles during the most debauched scenes.
Overall, while it's not exactly a faithful adaptation of the Dr. Jekyll and Mr. Hyde story, Edge of Sanity is highly entertaining and manages to do a lot in its 90 minute runtime. Perkins is excellent, the women are beautiful, and horror fans shouldn't miss this madness.
Blu-ray
Arrow Video has released Edge of Sanity on Blu-ray with a new "2K restoration from a 4K scan of the original 35mm camera negative" per their box art and booklet in its original 1.85:1 aspect ratio. The film previously got a Blu-ray release in the United States by Scream Factory, albeit as part of a double-feature with Destroyer. That transfer looked a bit soft and grainy along with a markedly drab color scheme. Here, Arrow Video improves on just about everything, offering good fine detail levels, a stronger color palette that emphasizes the more lurid reds and greens of the brothel and street scenes, and a medium-bodied grain. No real evidence of damage or debris is visible. There's not much softness besides intentional usage. This is a great step up from the past release, and the film's worth owning on its own. You can also have a look at our screenshot comparisons here.
Audio is presented with a DTS-HD MA 2.0 stereo track that sounds superb, with a strong orchestral score and excellent dialogue levels. English subtitles are also included.
New extra features include an audio commentary with David Flint and Sean Hogan that covers the context of the time period, the BDSM themes, and even Perkins' own personal life compared with the themes of repression in the movie. Also new to this release is an interview with Stephen Thrower, who dives into the filmography of Kikoïne before getting to the themes of Edge of Sanity. Dr. Clare Smith provides a new look at Jack the Ripper in cinema before narrowing in on this film. An interview with producer Edward Simons is also included, who shares anecdotes about his friendship with Anthony Perkins. Two interviews with Gerard Kikoïne are also provided that were shot in 2020; one goes over his filmography, the other specific to Edge of Sanity and its filming and production. All told, there's nearly an hour of new extras on this not including the commentary.
Also provided is a booklet with a new essay from Jon Towlson that goes into the elements of repression in the film and tackles the various anachronisms.
Extra Features
NEW 2K restoration from the original 35mm camera negative by Arrow Films
High Definition Blu-ray (1080p) presentation
Original uncompressed stereo audio
Optional English subtitles for the deaf and hard-of-hearing
NEW audio commentary by writer David Flint and author and filmmaker Sean Hogan 
NEW Over the Edge, an interview with Stephen Thrower, author of Nightmare USA (1080p; 26:18)
NEW Jack, Jekyll and Other Screen Psychos, an interview with Dr Clare Smith, author of Jack the Ripper in Film and Culture (1080p; 28:37)
Edward's Edge, an interview with producer Edward Simons (1080p; 12:08)
French Love, a career-spanning interview with director Gérard Kikoïne (1080p; 21:12)
Staying Sane, Gérard Kikoïne discusses Edge of Sanity (1080p; 24:17)
Original Theatrical trailer (1080p; 0:59)
NEW Reversible sleeve featuring original and commissioned artwork by Graham Humphreys
NEW FIRST PRESSING ONLY: Illustrated collector's booklet featuring writing on the film by Jon Towlson
Verdict
Edge of Sanity is a great Jack the Ripper/Dr. Jekyll and Mr. Hyde hybrid that hinges a lot of its content on a great performance from Anthony Perkins. This Arrow Video release is currently the best to own, with a great new transfer and a number of extra features that make this worthy of a double-dip.