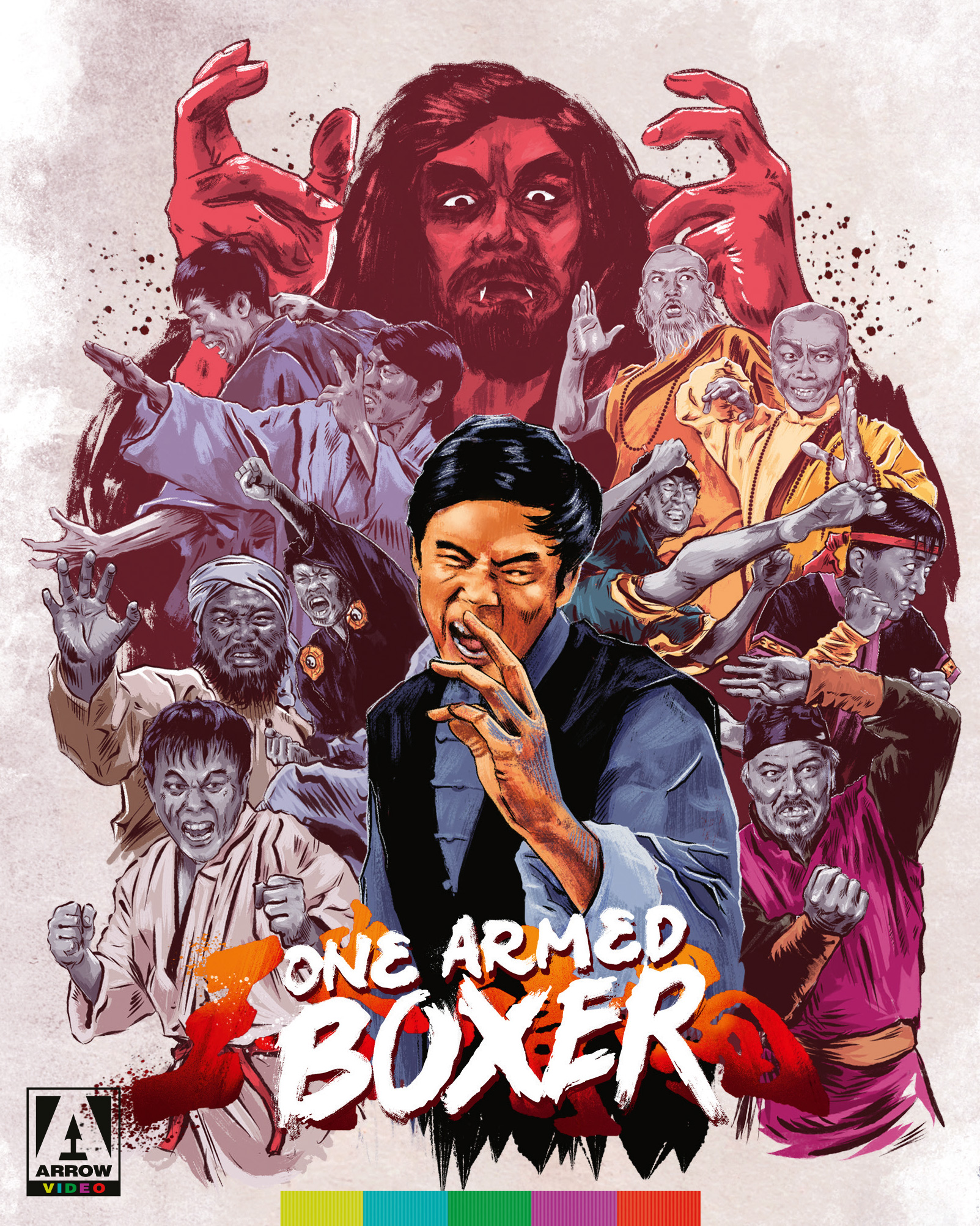 Back in the early '70s, one-armed fighting was apparently all the rage. "Jimmy" Wang Yu cemented that in the 1967 Shaw Brothers classic One-Armed Swordsman along with a few sequels, and then in 1972 he returned to the handicap with One-Armed Boxer. This time he dropped the sword and the Shaw Brothers, breaking his contract to work with Golden Harvest and Raymond Chow and assuming writing and directorial credits. The additional titles gave him free reign to work outside of the confines of the Shaw Brothers' mandates, which in turn helped drive a new era of kung fu – more focused on the weaponless martial arts than some of the Hong Kong and Japanese titles coming out at the time.
One-Armed Boxer also stars Yu as Tien Lung, a fighter at the Zhengde school of martial arts who, at the start of the film, starts up a rivalry with fellow school the Hook Gang (over birds and a particular table, for that matter). Unfortunately the Hook Gang are also interested in disrupting the Zhengde factories in the area, so they outsource some help from a number of fighters in varieties of martial arts, including lamas from Tibet, Thai boxers, and the main opponent for Tien Lung, the vampire-toothed Japanese fighter Erh Ku Da Leung (Wong Fei-lung). There's also some blackface interspersed in there but we won't talk about that.
About 45 minutes later, Tien Lung finally loses his arm in a fight with Erh Ku, who quite literally karate chops it off wholesale. From here on out, the viewer recognizes that One-Armed Boxer ain't like the Shaw Brothers films that came before it and it certainly does not subscribe to the fairly serious elements of One-Armed Swordsman. Instead, Yu focuses on kung fu theatrics, melding all kinds of martial arts styles into one elaborate sequence of events as the two warring schools duke it out, with the Zhengde school eventually decimated thanks to the strength of the outsourced fighters.
Contextually, One-Armed Boxer seems to praise the strength of Chinese martial arts over that of all other cultures. The film's lengthy showdown, set in a sandy desert wasteland, finds Tien Lung expertly employing his new Crippled Hand technique against all of the strongest fighters, facing off one-on-one or even two-on-one to showcase the power of his newfound abilities. The technique itself forces Tien Lung to burn all the nerves in his good hand to create an all-powerful (presumably unfeeling) fist, but One-Armed Boxer ultimately finds power in pain.
 While some audiences may be put off by the at times overtly ridiculous storyline, taking One-Armed Boxer at face value yields surprisingly entertaining results. It's certainly not a movie to ponder over strenuously, but at its heart it's a strong wuxia film that adheres more towards the fantastical, donghua-ish element than serious fighting. With that said, there's a reason One-Armed Boxer is seen as a pivotal point ushering in a different class of wuxia film – it's simply dang fun.
Blu-ray
Arrow Video has released One-Armed Boxer on Blu-ray with a 2K restoration that was completed by Fortune Star. The transfer information does not list a source besides "original elements," so one would assume that not all of this transfer came from the original camera negative. Regardless, the results still look quite impressive; while Hong Kong films of this nature tend towards washed-out environmental colors and ruddy skin tones, One-Armed Boxer looks consistent with other Shaw Brothers and Hong Kong releases from the same era. Detail is strong for the most part, though this movie does rely on a number of fish-eye lens effects and occasional soft-focus shots; this is obviously a stylistic choice, not part of the restoration. There's really no damage to note on this release, and if multiple sources were used for the 2K restoration, it's not particularly evident. Overall, a very good presentation of this film.
Audio options include two Mandarin DTS-HD Master Audio 1.0 mono tracks and an English DTS-HD MA 1.0 mono track as well. The differences between the two Mandarin tracks are related to the different score choices used during the film; while the overall dialogue remains the same, and quality-wise they both sound comparable with occasional goofs during sound effects present in the original picture, the difference is the abundant usage of the Shaft theme song versus a more natural orchestral score, primarily during the opening credits. The English track is fine, but ultimately fans will want to pick one of the two Mandarin for the most authentic experience. English subtitles are, of course, included.
Extra features are mostly ported from past releases including a Eureka Blu-ray from 2021. There's an audio commentary with Frank Djeng of the NY Asian Film Festival where he dives into particular Chinese culture, references the filmography of the actors involved, and provides translations of some of the Chinese language used in the film. New to all releases though not newly filmed is an unreleased interview with Wang Yu from 2001, in which he covers his filmography including but not limited to One-Armed Boxer. Also on this release is a trailer gallery with the theatrical trailer and TV spots for this film along with trailers for other Wang Yu movies. An image gallery rounds out the options on the disc.
As for packaging, Arrow Video provides essays from David West and Simon Abrams; West details Wang Yu's importance in the birth of weaponless martial arts films in the space between Shaw Brothers and Bruce Lee, and Abrams discusses the cultural elements at play in One-Armed Boxer. Also included is new reversible cover artwork.
Extra Features
2K restoration from the original elements by Fortune Star
High Definition (1080p) Blu-ray presentation
Original lossless Mandarin mono audio, alternate Mandarin soundtrack and original English dubbed audio
Optional English subtitles, plus hard-of-hearing subtitles for the English dub
Commentary by Frank Djeng from the NY Asian Film Festival
NEW Career retrospective interview with Wang Yu, filmed in Nantes in 2001 and never released before, courtesy of the Frédéric Ambroisine Video Archive (1080p, 41:14)
Trailer Gallery

Original Hong Kong theatrical trailer (720p, 4:11)
US TV Spot (as The Chinese Professionals) (720p, 1:03)
US Radio Spot (1080p of gorgeous blackness (no blue tint), 0:59)
Over half an hour of trailers for other Wang Yu classics including One-Armed Swordsman and Master of the Flying Guillotine (720p, 34:28)

Image Gallery (1080p, 1:12)
NEW Reversible sleeve featuring original and commissioned artwork by Ilan Sheady

NEW FIRST PRESSING ONLY: Illustrated collector's booklet featuring writing on the film by Simon Abrams
Verdict
One-Armed Boxer is a very fun entry in the kung fu canon, with Wang Yu's emphasis on fantastical elements adding entertaining value. Arrow Video's new release is light on extras but does feature a nice 2K scan and a great full-color booklet of essays.