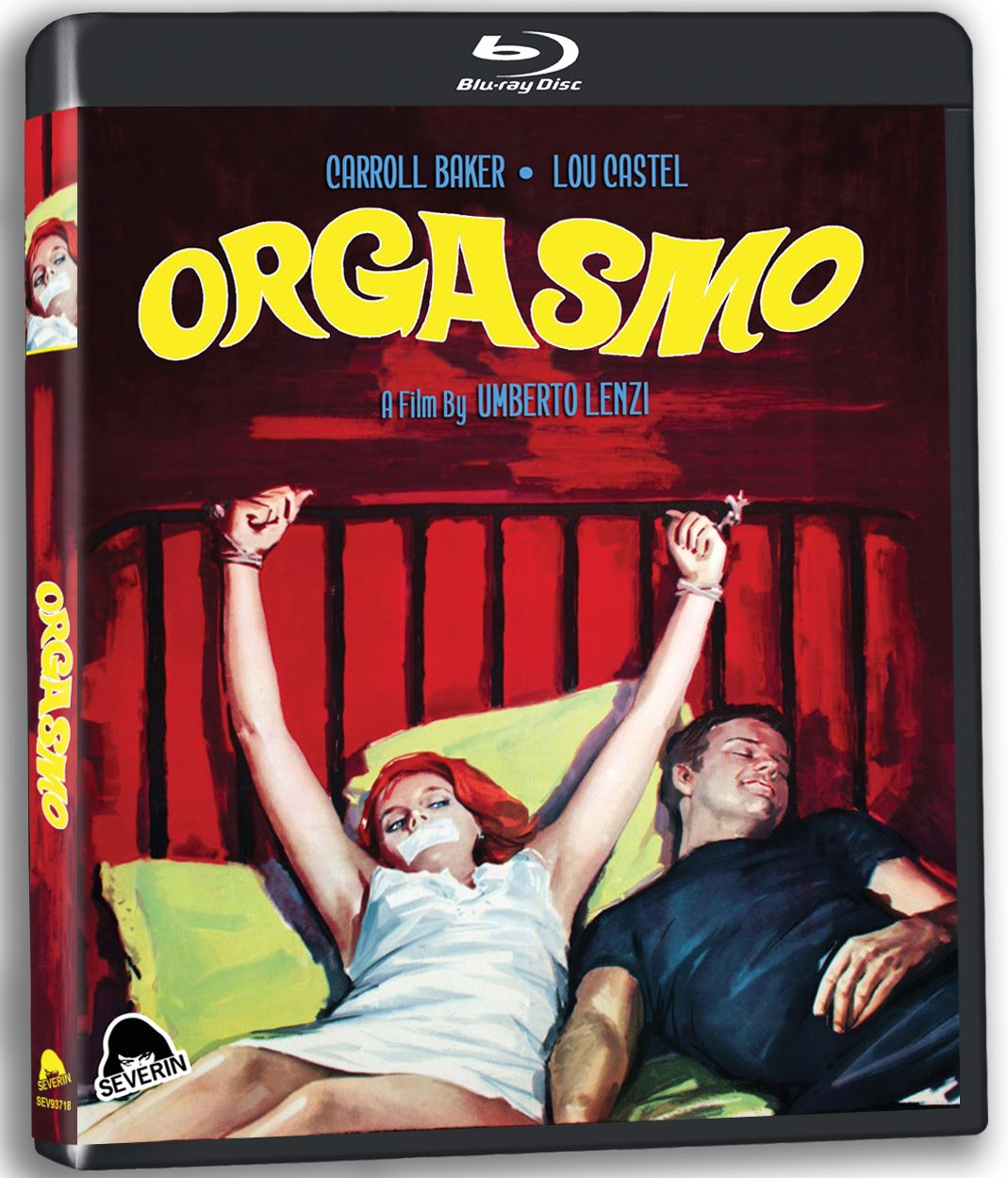 Italian director Umberto Lenzi is most famous for his work in the '80s, with the release of Nightmare City and Cannibal Ferox. However, in the late '60s and early '70s, Lenzi took a stab at the Giallo genre with films like Orgasmo, A Quiet Place to Kill, Knife of Ice, Seven Bloodstained Orchids, and Spasmo. Cult label Severin Films has gathered up four of his Galli (Orgasmo, So Sweet… So Perverse, A Quiet Place to Kill, Knife of Ice) in a boxset called The Lenzi/Baker Collection. The Baker half of the title is due to American actress Carroll Baker starring in all four films. Today we are looking at the first film in the set titled Orgasmo (not to be confused with the 1997 Orgazmo, a film that gave us the DVDA) released in 1969.
Carroll Baker stars as Kathryn West, a recent widow who has inherited millions of dollars from her dearly departed husband who perished in a car accident. Kathryn heads off to her giant estate to grieve, which basically consists of drinking a shitload of J&B whiskey, a staple of the Giallo genre. In between bouts of being an insufferable bitch to her maid, Kathryn hooks up with a mystery man named Peter (Lou Castel), whose car just happens to breakdown in front of her home. Peter decides to seduce Kathryn with his seduction method of charging in on her showering, but Kathryn doesn't seem to mind much.
After a bit of a romp, Peter invites his sister Eva (Colette Descombes) over to get in on the seducing action with Kathryn who at first ain't having any, but with a dash of drugs later she is a bit more open to the suggestion. Things are going all fine until Peter and Eva start drugging Kathryn even more and eventually resorting to abusing her both physically and mentally with a song ("Just Tell Me" by Piero Umiliani & Wess And The Airdales) that they play over and over and over again. If I hear either that song or the other song that plays continually throughout the movie, "Fate had Planned it So," Kathryn won't be the only one going insane.
Orgasmo isn't your standard Giallo, or at least what I consider a Giallo. No mysterious murderer is lurking in the shadows wearing black gloves and waiting to strike a damsel in distress with his or her razor. In fact, Orgasmo barely has any blood and murder in the film. Instead, the story serves up a sexually charged psychological thriller with an ending that you may or may not see coming. Carroll Baker does a splendid job playing a woman slowly going mad. The makeup work by Raul Ranieri (The Bloodstained Butterfly) helps in showing that these two devious "siblings" are literally draining the life out of her.
Unfortunately, the film does tend to drag along during the middle half, were things are stretched out to only pad the runtime. Thankfully, the twisted ending makes up for these tiny grievances. Oh, and the female nudity from both Carroll Baker and Colette Descombes helped as well. (What? You should know how I am and what I like by now!)
Blu-ray
Orgasmo has released on Blu-ray for the first time thanks to Severin Films. The Blu-ray is sporting a new transfer scanned from the internegative and the results are great. There isn't much in the way of dirt or debris sprinkling the screen (watch the included US trailer for that) and the colours all pop with vivid clarity. The audio is provided in both English and Italian DTS-HD MA Mono with English subtitles. The English Director's Cut features some Italian scenes with English subtitles as there was no dubbed version available. The US X-rated cut, which features more nudity(!) and a different ending, is presented only in English.
Extra Features are divided up for each version of the film. The Director's Cut features an 11-minute interview with director Umberto Lenzi, who discusses making the film and the woes of changing titles depending on the market. Orgasmo is named Paranoia in the States and overseas Lenzi directed another film with Baker also titled Paranoia (A Quiet Place to Kill, which is included on the boxset and will be reviewed in the near future). The Director's Cut also features an audio commentary with Film Critic, Author & Academic Alexandra Heller-Nicholas. The X-rated US cut includes an audio commentary with Mondo-Digital's Nathaniel Thompson & Troy Howarth, Author of So Deadly So Perverse: 50 Years Of Italian Giallo Films. Severin Films also includes the soundtrack on CD, so yes, you can listen to the aforementioned tortuous songs as much as you want. Oof!
Extra Features
Director's Cut
Audio Commentary with Film Critic, Author & Academic Alexandra Heller-Nicholas 
US X Rated Version + SDH subtitles
Audio Commentary with Mondo-Digital's Nathaniel Thompson & Troy Howarth, Author of 'So Deadly So Perverse: 50 Years Of Italian Giallo Films'
Giallo Fever: Interview with Director Umberto Lenzi (HD, 11:02)
US Trailer (unrestored HD, 1:44)
BONUS CD SOUNDTRACK: Orgasmo Remastered Soundtrack
Verdict
Although I was expecting a bit more blood and violence, Orgasmo still surprised with a sexy thriller and an ending that really impressed me. The first Blu-ray on the Lenzi/Baker boxset is off to a great start with a solid transfer and some informative extra features.