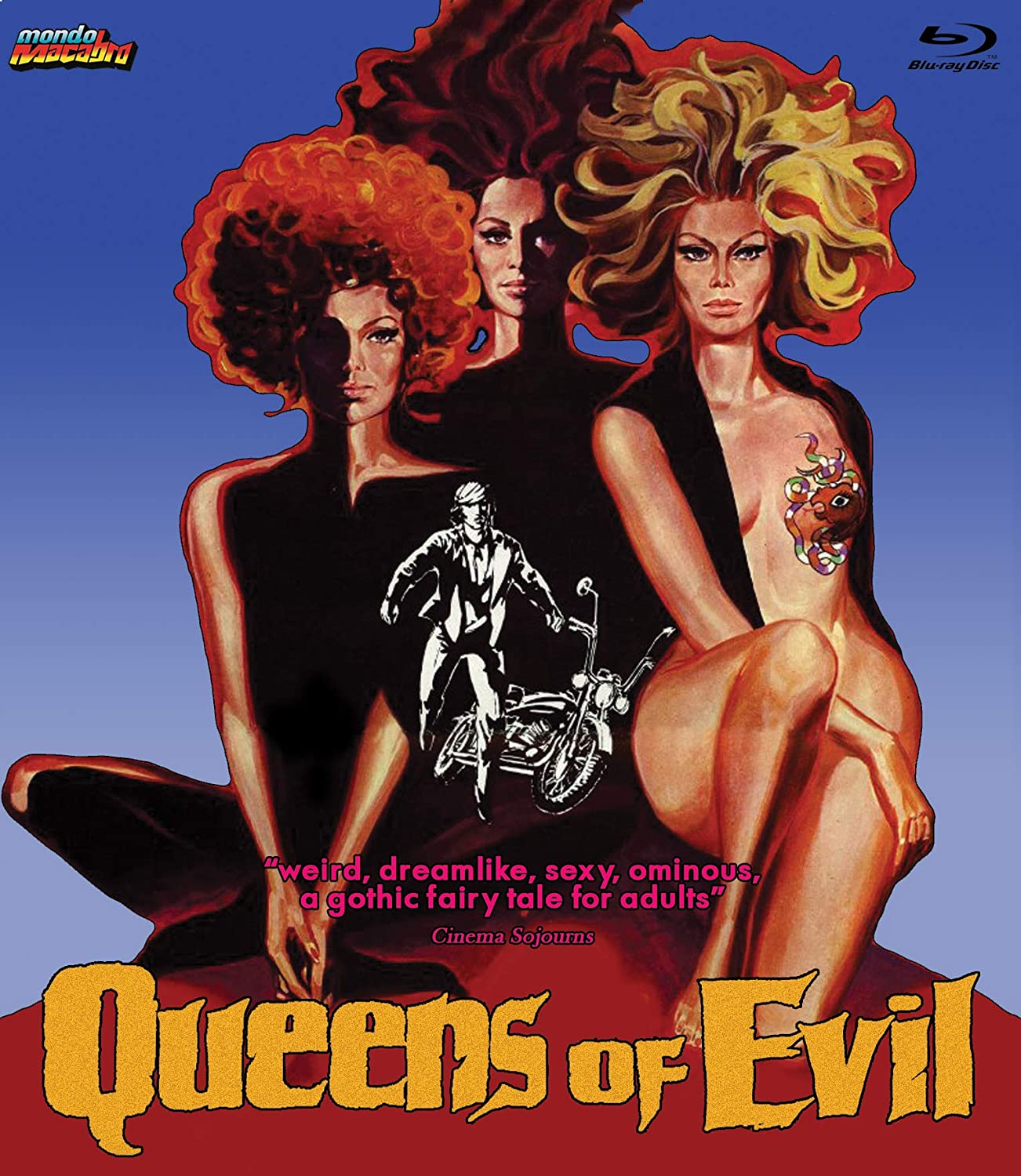 Tonino Cervi's 1970 film Queens of Evil is certainly an interesting experience. It's not quite a horror film – at least, not throughout the majority of its runtime – but it falls somewhere into dark fantasy with a dream-like maneuvering through its plot. It's also partly a male fantasy that rivals some contemporary anime, with a harem-like aspect as its protagonist David (Ray Lovelock) gets caught up in a devil's triangle with three beautiful women (Silvia Monti, Haydee Politoff, and Evelyn Stewart) who are almost nymph-like in their approach to living off-grid in the wilderness. Unfortunately, David has the bad luck to have to choose between them, which is never a good thing considering his free-love philosophy.
Cervi's fever-dream surrealism is really what holds Queens of Evil together, because truthfully a more standard approach to its plotting would reveal its simplistic nature. Those moments of quiet eeriness give the film its charm, from the oddities of its female stars (they wear wigs so they can keep with the "latest" fashion) to the pastoral setting and off-kilter set design (yes, they do sit in front of gigantic portraits of themselves). Queens of Evil mixes these ominous elements with more traditional sexcapades; in true male fantasy fashion, Lovelock is wanted by all three the moment he arrives, and gets to bed them all as jealousy abounds.
Some viewers may find the rather languorous pacing a bit slow, but there's very little dispute about the film's final minutes. A truly shocking display of violence that stands starkly apart from the rest of the movie awaits patient viewers, with a twist that may be somewhat apparent from the start but still plays out with darkly comedic aplomb. For those finding themselves antsy during the spirited love fest that occurs early on, I say: carry forward, for the end is worth it.
Blu-ray
Mondo Macabro has released Queens of Evil on Blu-ray with a new 4K transfer from the film negative, which looks surprisingly clear here despite the film's obvious limitations. A medium-bodied grain scale remains though not obstructive, and Mondo Macabro has managed to preserve the filmic look of the lush settings. A note at the beginning of the film addresses a couple of minor sequences that were sourced from a lower-quality element, which is most evident at the beginning of the film, but these are not eyesores inserted into the film like some other standard-and-HD mixes. Overall, a great job restoring Queens of Evil to its royal glory.
Audio is presented with both a DTS-HD MA 2.0 mono English and Italian track, with the primary selection being English. Ultimately both sound good, though I watched specifically with the English audio. While the soundtrack is not exactly bombastic, the dialogue was clear and Lovelock's singing performance is well-preserved. English subtitles are included only for the Italian track; the English dialogue does not match the translations.
Extra features include a new informative audio commentary with Kat Ellinger and Samm Deighan which is recommended for fans of the film to learn more about its history. Also included is an archival 20 minute interview with Ray Lovelock that goes over his filmography and cinematic background. Alternate scenes are included with subtle differences from the ones included in the film, lasting about 7 minutes in total. Finally, an HD trailer is also offered, along with other Mondo Macabro previews.
Extra Features
NEW 4k transfer from a film negative
Interview with Ray Lovelock (HD; 26:57)
NEW Audio commentary from Kat Ellinger and Samm Deighan
Trailer (unrestored HD; 3:04)
Alternative sequences

Forest Chase (unrestored HD; 3:58)
Empty House (unrestored HD; 3:38)

English/Italian audio with optional subtitles
Mondo Macabro previews
Verdict
Queens of Evil is an enjoyable offering that has a truly shocking twist awaiting patient viewers. This Mondo Macabro release has great video quality with a number of enjoyable extras for the interested cinephile.