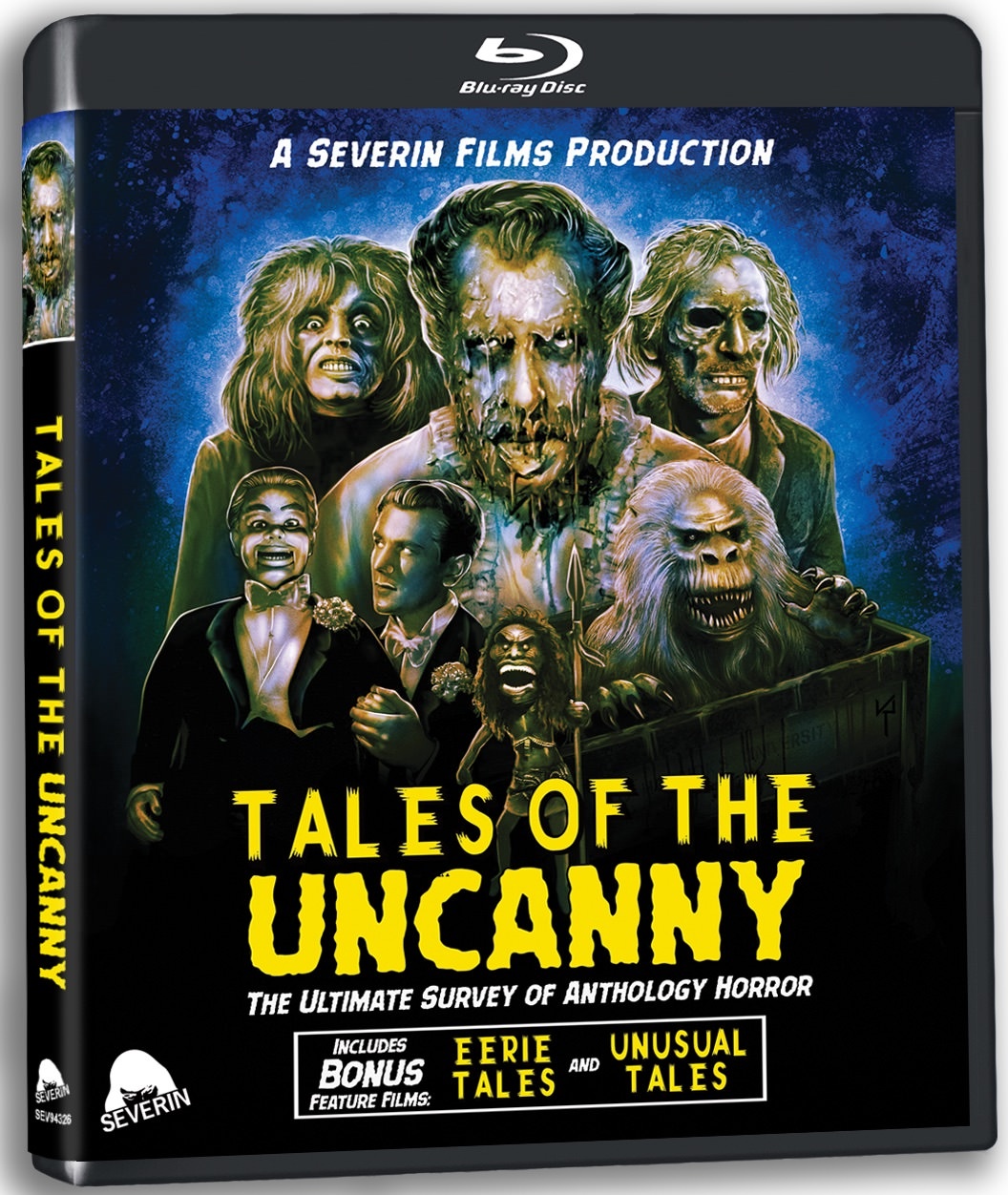 Severin Films has been the face of some great documentaries in the past. Lost Souls, Future Shock, and Blood and Flesh have all released to critical acclaim, and Severin has managed to do it again with its new look at anthology films titled Tales of the Uncanny. The film details the context of its creation right at the start, with Kier-La Janisse and David Gregory intending it to be a supplemental feature for Family Portraits before it became clear that they had a lot more to say on the matter. So they decided to get together with over 60 participants thanks to Zoom in order to bring a full-fledged documentary to the masses during a pandemic. The results are surprisingly coherent for this many participants, with a star-studded cast giving their input on the best horror anthologies throughout film history.
The film is well-structured, but it helps that director David Gregory was given a pretty easy method of ordering Tales of the Uncanny: start in chronological order, and run through the decades pointing out the most important anthologies of those time periods. And that is exactly what the documentary does, starting at the heyday of film with its earliest incarnations of anthologies spinning off from fiction short story collections and moving along to tackle just about every horror anthology film (at least, the most important ones) up to present.
This is all aided by a nice array of effects work that attempts to mitigate some of the inferior video quality of Zoom chats, putting some of the interviews into a laptop screen with an artistic backdrop. Like all of Severin's documentaries, the transitions are flashy keeping the whole thing moving at a fast clip. With that said, Tales of the Uncanny does sometimes come off as one very long list; while certain films are given a bit more time based on their heavyweight status, many of them are glossed over with quick allusions from critics and filmmakers who enjoyed them. It does also feel like Tales of the Uncanny rushes through the contemporary anthologies, since at about 103 minutes it's already pushing the clock just a tad.
Besides that, though, Tales of the Uncanny is quite the enjoyable experience reliving some of the best anthologies (and some you might not know!) through narration from some extremely well-known faces in the horror world. This seems like a large undertaking, and Gregory has managed to pull it all together into a cohesive whole, even managing a best list at the end of the documentary. This one is definitely recommended to those fans of horror anthologies, even TV shows – they're not missed here either.
Blu-ray
Severin Films recently released Tales of the Uncanny on Blu-ray in a special 2-disc edition for their Black Friday sales; that one contained an additional full-length horror anthology. This standard edition cuts out the additional disc containing Master of Horror but still presents the little-know Eerie Tales and Unusual Tales as supplementary extras.
The video quality in Tales of the Uncanny is obviously inconsistent due to the variety of interviews included here; it ranges from excellent film footage to somewhat poor Zoom connection (Richard Stanley, I am looking at you). Overall picture quality is not really important to the scope of this documentary, but Severin's release manages what it can with an otherwise great HD representation.
In much the same way, the DTS-HD MA 2.0 audio ranges the gamut – but the film does make good use of its nu metal-esque beats underneath the video footage. There's a bit of static crackle here and there based on connection, and Kim Newman's audio-only contribution seems to have some bad reception, but otherwise no issues here.
The aforementioned two anthologies are a nice addition to this release, with Unusual Tales getting a new 2K scan that certainly helps encourage more viewers to check it out. Eerie Tales is in rough condition, but it's very nice to see this artifact preserved. It's interesting that Severin did not assemble any bonus interviews or cut content for this release; one could see some of the interviewees waxing critical about a great deal of films that didn't have as much representation.
Extra Features
Bonus Horror Anthology: EERIE TALES (1919) from broadcast tape master (720p; 1:42:50)

NEW Bonus Horror Anthology: UNUSUAL TALES (1949) 2k scan from only known 16mm print from Brussels Film Archive (HD; 1:28:27)
Verdict
Severin's Tales of the Uncanny is a great feature-length look at horror anthologies across the spectrum, assembling a large number of interviewees. This Blu-ray release gives two additional feature-length anthologies for film buffs, stuffing it with additional content.