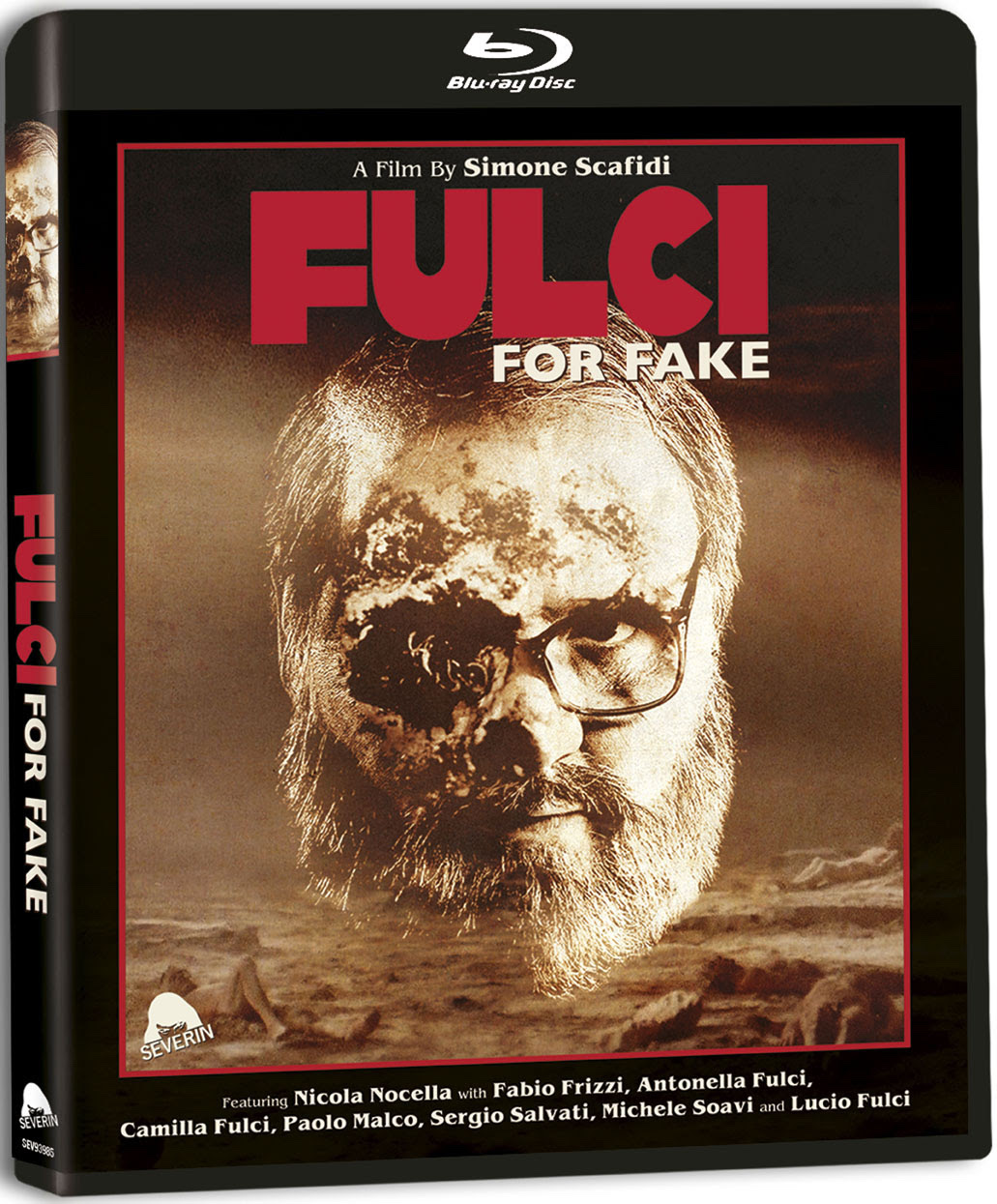 Fulci for Fake is a documentary, but it almost doesn't seem to want to be. Instead, it frames the interviews with Fulci's friends and family around a story about an actor (Nicola Nocella) attempting to decipher the mystery behind the man so that he can play him in a film. Does Fulci for Fake need this level of intrigue? Probably not – in fact, the film is at its most authentic when it just lets its interviewees talk, providing a mouthpiece for each of them to voice their loves and frustrations for a man who was a little of everything: auteur, father, husband, grump, ailing, and above all else, undefinable.
Director Simone Scafidi wants to understand the man behind the Italian horror films that have inspired so many others, which is effectively the intention of the meta elements at play in Fulci for Fake. Nocella's character is often shown lost in thought about reconciling Fulci's film offerings with the knowledge he gleans from those he interviews, looking for answers to get to the crux of his personality. The results are somewhat predictable; Fulci for Fake never really gives the viewer any information about the man that we haven't already known. He was often cantankerous, possibly misogynistic, and in later years suffered from tragedies that shaped and colored his world view. While it does help paint a picture of who Fulci was, it doesn't reveal anything surprisingly different from past Fulci biographies.
What Scafidi does do, though, is help to fill in the contextual elements of Fulci's life; namely, his daughter Camilla, who gives a majority of the interviews throughout the movie. Fulci for Fake gives deeper insight to Camilla's struggles than we've seen previously; her thoughts are emotional, poignant, and often conflicted. We see Camilla reflecting on both the man that she knew and his posthumous persona, and also father vs. professional. Similarly, we get a brief interview with Fulci's other daughter Antonella, who provides the film's closing theme: we can't try to understand Fulci, but simply appreciate the work that we have from him.
Also interviewed are some of Fulci's closest peers, including his first biographer Michele Romagnoli, his composer Fabio Frizzi, his assistant Michele Soavi, and cinematographer Sergio Salvati. They provide anecdotes on set, describe his work on various important films, and provide the timeline from his early career to his late work before his death.
Fulci for Fake is well-edited and often compelling, perhaps bogged down by its framing story that seems to be there for no other reason than to be referential and provide a "question" to be answered. But watching the documentary provides a great look at Fulci as he related to others in his life, giving vital information about the man than the effect he had on people. And as such, attempting to understand the essence of Fulci leads to more questions, both for the viewers and the interviewees.
Blu-ray
Severin Films provides Fulci for Fake on Blu-ray with excellent picture quality thanks to good interview lighting and slick editing. There are a couple of darker scenes that lose some delineation but otherwise a good-looking feature without a lot of technical enhancements. Bitrate is locked at 32mbps.
Audio is a DTS-HD MA 5.1 Italian track as default (listed as English for some reason in the file data), which sounds fine with no drops or volume issues, though it does have a surprisingly low average kHz on the Spek scan. Also included is an alternate Dolby Digital 2.0 track that isn't accessible by menu. English subtitles are on by default.
Extras are pretty extensive and include a lot of interviews that just didn't fit into the course of the documentary. There's an interview with the director Simone Scafidi who goes into detail about why he wanted to make this biopic and in the format that he chose. A full uncut interview with Camilla Fulci is included that runs over an hour. There are also outtakes from Fulci's peers that runs about 46 minutes that were not included in the film. 15 minutes of unseen home videos with commentary from Romagnoli provide additional behind-the-scenes looks at Fulci's off-screen life. There are also audio tapes from Romagnoli interviews, another interview with Romagnoli himself, a look at the Zombie Parade at the Venice Film Festival from early 2020, and a backstage look at the production of Demonia that is shown in part in the film. The crew working on Fulci for Fake are also interviewed in a 17 minute featurette that helps to define their own interest in the man. Finally, a film trailer rounds out this disc's extensive bonus content.
Extra Features
NEW Interview with Director Simone Scafidi (HD; 23:18)
NEW Crew Interviews (HD; 17:39)
NEW Camilla Fulci Uncut: The first and only video interview with Lucio Fulci's daughter (HD; 1:12:32)
NEW Lucio Fulci & Friends: Interview outtakes with Sergio Salvati, Fabio Frizzi, Paolo Malco, Michele Soavi and Enrico Vanzina (HD; 46:27)
NEW The Eye Of The Witness: Biographer Michele Romagnoli recalls his relationship with the director (HD; 23:31)
NEW Looking For Lucio: Rare home movies from Fulci's private life and location scouts, with accompanying commentary by Michael Romagnoli and Lucio Fulci (unrestored HD; 15:45)
NEW Lucio Fulci's Audio Tapes: Audio highlights from conversations between Lucio Fulci and Michael Romagnoli for the writing of Fulci's memoir (HD; 22:45)
NEW Zombie Parade at the Venice Film Festival (HD; 1:35)
NEW Demonia Backstage (unrestored HD; 9:35)
Trailer (HD; 2:28)
Verdict
Fulci for Fake is a revealing documentary, less about the man himself than those closely associated to him. This Blu-ray is loaded with extras and should definitely find its way into Fulci fans' homes.