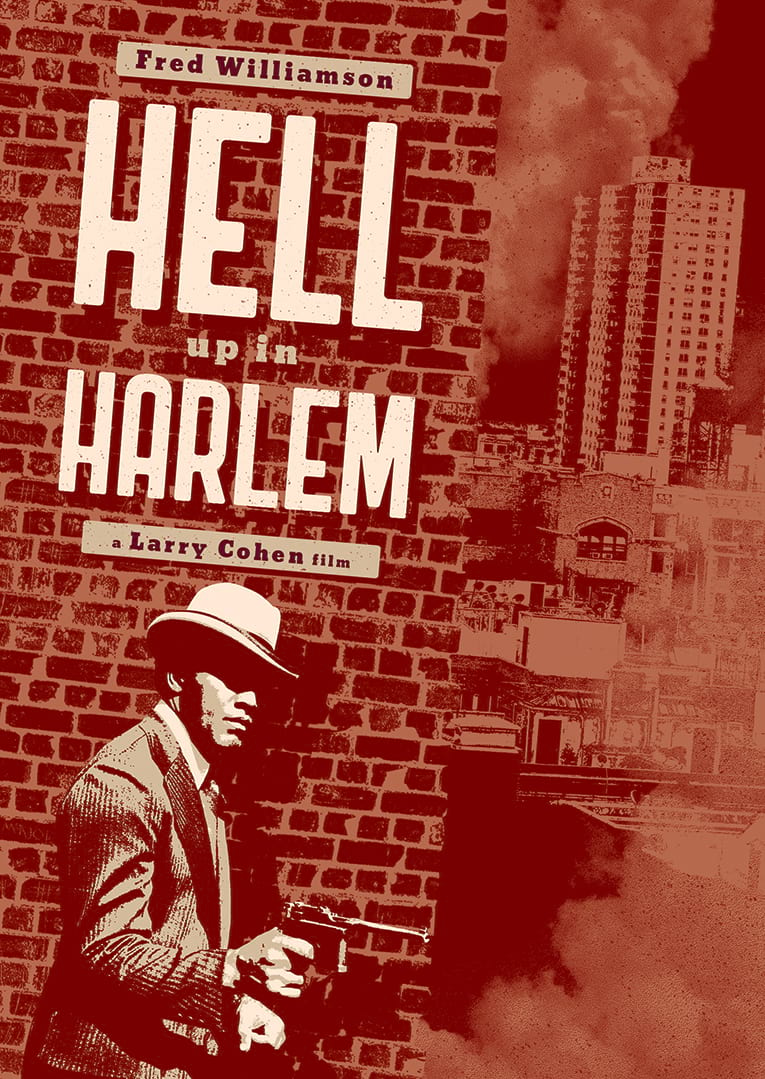 PLOT SUMMARY
After Tommy Gibbs survives a brutal attack on the streets of New York, he recovers faster than Wolverine and gets back to killing guys. He teams up with his daddy and takes over the streets of New York from corrupt cops. Unfortunately, Tommy has a friend who betrays him and Tommy must go on a murdering rampage to seek revenge. 
Director: Larry Cohen
Actors: Fred Williamson, Julius Harris, Margaret Avery
Genre: Action
Year of Release: 1973
Film review
Hell Up in Harlem is the quickly put-together sequel to the cult blacksploitation classic Black Caesar (a film I haven't seen). It features returning director Larry Cohen and actor Fred Williamson as Tommy Gibbs, also known as Black Caesar. It picks up directly from the ending of the first film, where Tommy has been shot by corrupt cops and is fighting for his life.
The flick jumps forward rather quickly after that gripping opener and has Tommy recovering lightning fast and getting back into the mob game. With some help from his father, Tommy goes after several of the corrupt cops and senators that have been causing him lots of headaches. Suddenly, though, the film shifts gears into a revenge flick where Tommy needs to go after a rogue agent of his that has turned sides.
There is one underlying problem that I would like to address with Hell Up in Harlem. That problem is with the main character Tommy Gibbs. The character of Gibbs is mostly unlikeable as a protagonist, which makes it hard for an audience to feel any sympathy towards him and the actions that are being put upon him. Top that off with the realisation that what Gibbs is doing to Harlem and New York, in general, is no better than the people he is taking down. One must have at least some attractive traits for people to root for him, and talking some jive smack and being a good shot is not something that makes one instantly a hero. 
Hell Up in Harlem pretty much dissolves itself down into a pure action flick, with lots of swearing, guys being blown away and plenty of over-the-top action. It's overall a silly film and plays it fast and loose. Having already mentioned I haven't seen the first film, I can't explicitly say whether this film holds up as well as Black Caesar. I can only tell you that I had fun with the nonsensical scatterbrained plot and copious amounts of blacksploitation goodness.
Violence
Hell Up in Harlem is a violent film, with tons of guys being shot up. Lots of fake blood flying all over the place, and damn, it's a lot of fun.
sex/nudity
Hell Up in Harlem has a bit of nudity, with Margaret Avery baring her breasts for all to see. The film isn't full of nudity, though, which is strange for a blacksploitation flick from the 70s.
interesting elements
Tommy Gibbs' Wolverine abilities. 
Tommy's lack of caring about his friends dying. 
The disappearance of Tommy's other kids. 
Blu-Ray specs
Rated: 

R

 

subtitles: 

english (optional)

 

Video: 

1.85:1 aspect ratio; color

 

Runtime: 

95 minutes

 

Year: 

1973
Extra Features
NEW audio commentary with director Larry Cohen, moderated by Steve Mitchell, director of the upcoming documentary King Cohen: The Wild World of Filmmaker Larry Cohen.
Blu-Ray Review
Video
Olive Films presents Hell Up in Harlem on Blu-ray, with a solid transfer that will impress plenty of people. It is a bit heavy with film grain at times, but that is something I rather love with these older films.
Audio
Audio is presented in English DTS-HD Master Audio 2.0 with Optional English SDH subtitles. I didn't have any issues with the presentation. I felt it was clean and clear.
Extra features
Olive Films usually doesn't go all out with the special features, so I wasn't surprised that the only features on the Blu-ray were a new audio commentary with director Larry Cohen and filmmaker Steve Mitchell and trailer. A commentary is always welcome, so I'm willing to cut some slack with Olive Films.